judyg@jganesconsulting.com Tel. +1 914 301-6422
WhatsApp/WeChat. +1 914 602-9483
Brazil Coffee Areas Hit by Freezing Temperatures

July 20: Frost forms in Brazil's Coffee Belt




For the second time this month, Brazil was hit by a cold snap. The mercury dropped to surprisingly cold temperatures in key areas of Minas Gerais and Sao Paulo with some below freezing for several hours.

Frost forms at 2C or below... (

read

more

)

Boots on the Ground in Brazil

Fresh off the tree, these Arabica cherries were hand-picked at a beautiful farm in Alfenas that is steeped in family tradition. This year's harvest has a higher percentage of cherries where the grain inside (coffee beans) are not properly developed or fully formed. The coffee is lighter in weight and the beans are smaller due to the reduced precipitation. They are estimating about a 10% break in the crop size when milling from prior expectations. After the coffee is millled and dried it is kept in sealed wooden slats to rest for 60 days at this farm. The norm is about 30 days.

Boots on the ground in Brazil

Evidence of premature flowering from recent rain in Campo de Meio, Minas Gerais

Judy has been discussing evidence of flowering that could impact the 2022/23 crop as well as some early budding. Farmers are hoping that there is no rain in the next two months so as not to spur a large premature flowering that would be at risk if there was no follow-on rains, but also create a problem since most farms use mechanical harvesting and the crop would be too early. Leaves are also starting to grow at the nodes, a signal that the trees have been under extreme stress.

Boots on the ground in Brazil

On most farms I observed premature budding and leaves forming on trees at the nodes due to the recent irregular rains of varied amounts. This is only the start of the dry season. The timing of next rainfall will be critical. If it rains again and there is a lack of follow-on rains the blossoming will be lost, similar to the problem that happened in October. The buds could also bake in the hot sun and turn black. There are some buds already with a black tip, which shows the flowering that had occurred aborted, representing a loss to the 2022/23 crop.
Brazil's Frost May Kill Young Coffee Trees, Hurt Crops for Years
Above:
Reiner's young coffee trees that were damaged by frost in Monsenhor Paulo municipality, Minas Gerais state, Brazil.
Courtesy: Joseph Reiner
By Fabiana Batista and Marvin G Perez
July 22, 2021, 6:52 PM GMT+2
The severe frost that ravaged major arabica-coffee areas in Brazil earlier this week is especially deadly for young trees, which could greater losses for farmers and hurt production for years.
The death of young trees increases the likelihood that the crops even two years from now will be compromised, according to
Judy Ganes
, a consultant who has covered the market for more than three decades. Farmers will have trim off damage, destroying yields, or replant their fields. (Link to full story
here
)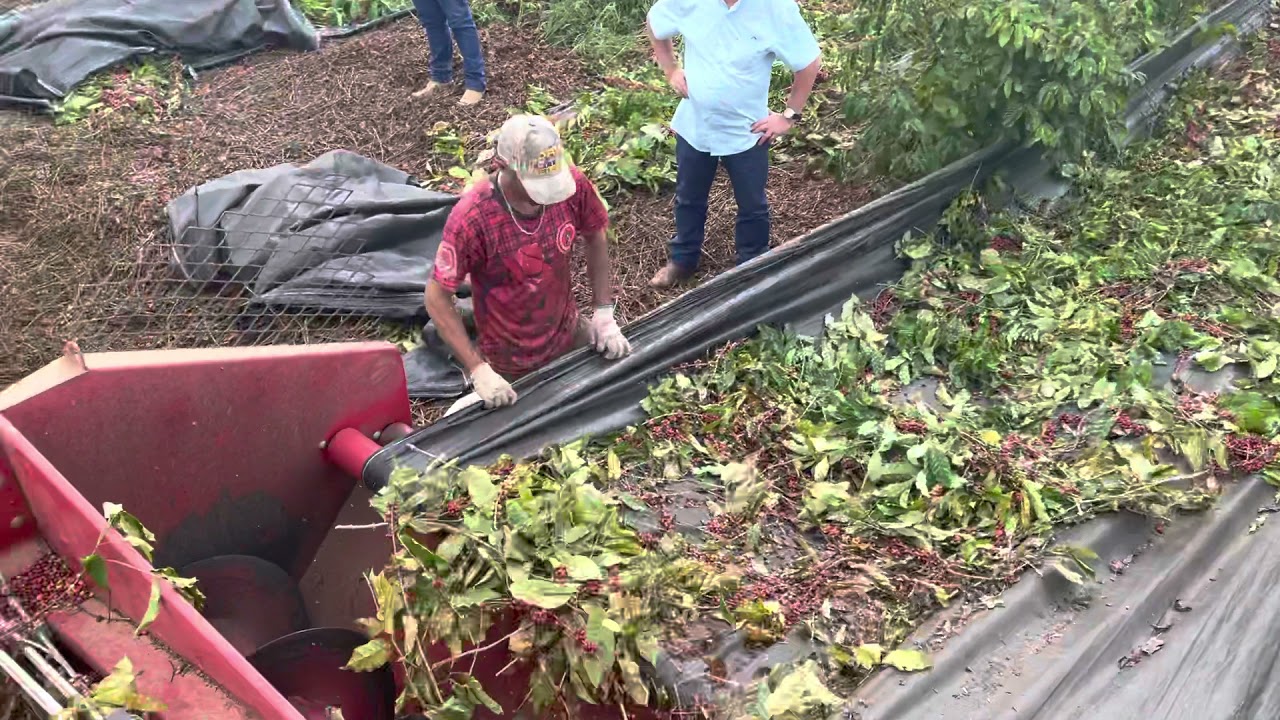 Observing Mechanized Robusta Harvest
Judy climbed atop the mechanical harvester at Fazenda Montealverne in Pinheiros, ES, Brazil July 8, 2021. The farm also has pívot irrigation. This method can harvest 80 bags of coffee in 40 minutes and save 80% on labor!
Regional Dryer Operator: Brazil Robusta Crop Shocker
In seeking out the unbiased truth about the crop size, who better to interview than the man that dried the coffee for the región I was visiting. He said farmers were surprised and disappointed st the lower yields.
2021/22 Brazil Crop Tour: Irrigation Experiment
See the difference in tree health with various levels of irrigation at this experimental farm in Franca.
J Ganes Consulting Reports
J Ganes Consulting reports provide comprehensive market analysis and insightful opinions on pricing, supply & demand estimates and other key factors affecting global softs markets.
All J Ganes Consulting reports draw on Judy Ganes' deep involvement in the industry, ranging from corporate trading desks to boots on the ground in the field where tropical softs are grown. Each publication is packed with independent, unbiased commentary and invaluable context. Need the hard facts on soft commodities? Get connected to one of the most experienced soft commodities experts worldwide, straight to your inbox.
Please email us for detailed pricing.
A must-have look at coffee market fundamentals. Each week, get our analysis and opinion reflecting decades of coffee market experience, from boardrooms to plantations. Published a minimum of 47 times per year.
A vital resource for anyone needing to understand the dynamics of softs markets. Each week you'll get into coffee, cocoa, sugar, cotton and orange juice from production yields to pricing dynamics. Published a minimum of 47 weeks per year.
Each month the Softs: Fast Facts report provides detailed datapoints and analysis on coffee, cocoa, sugar, cotton and orange juice markets. Topics include economic and political influences on the markets, weather, pertinent statistics, as well as predicted relative market strength.
Six times a year, the Coffee In-Depth report provides invaluable context on pricing, supply & demand estimates and other key factors affecting the coffee market. Your one-stop shop for independent, unbiased commentary from one of the most seasoned soft commodity experts in the industry today.
The Softs: In-Depth Report looks at key factors, critical trends and issues affecting the price of soft commodities. We bring incisive market analysis, context and opinion to the most timely issues. The last word on pricing, supply and demand estimates and other key factors affecting softs markets.
Get the Power of J Ganes Consulting Reports working for you right now.
Are you ready to start receiving J Ganes Consulting's connected and comprehensive soft commodities research on a weekly, monthly and bi-monthly basis? Contact us today to learn more about the best blend of reports and pricing to meet your needs.
Need advice on managing price risk? Growing and managing your business? We can help.
Our Advisory Services offer clear strategic guidance tailored to meet individual business, investment or trading objectives. Services include, but are not limited to:
Phone consultations.

In-person client meetings and site visits.

Facilitating or participating in brainstorming sessions.

Specialized presentations.

Hedging strategies.

Longer-term price forecasts.

Hedging strategies. Market feasibility studies. Structured reports. Long-term price forecasts.

Whatever your needs, you can count on us to expertly design and flawlessly deliver your project on time and within budget. And, of course, all work is conducted with the greatest confidentiality.

Contact Judy Ganes today to discuss your needs and receive a price quote.
In-person, online or by video conference, we design and lead workshops to meet your unique needs.
Let's Talk About Soft Commodities
Online or by video conference, J Ganes Consulting can design, create and lead workshops tailored to your specific needs. Workshops can include, but are not limited to, the following:
Futures and options—101, intermediate and advanced levels

Price risk management

Fundamental analysis for soft commodities

Understanding relevant market reports and data

What you need to know about trading soft commodities

How weather and other market-moving events can affect soft commodities

How to better time trades using seasonal patterns… and more

To discuss your needs and to receive our price list, contact Judy Ganes today.
Follow Judy Ganes on Telegram
How to get in touch

Feel free to write or call us. We love to communicate with our clients.